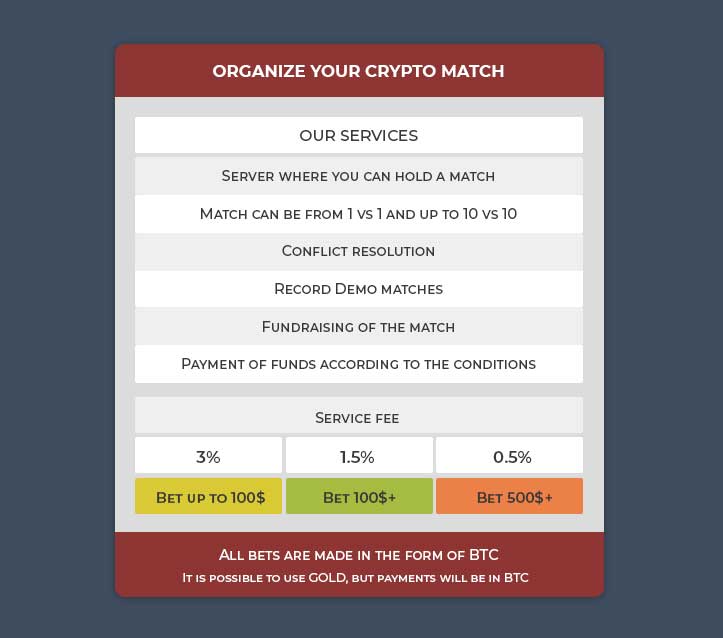 Crypto Match
Would you like to challenge someone to a duel in Counter Strike and earn money?
We can help you with this and organize a Tournament or Match for you.

Do you have a team? Or would you like to arrange 1 vs 1? Not enough excitement?
Set your conditions, leave a request, and we will arrange a match for you!
What do we guarantee during the organization?
- A server where you can hold a match
- Fundraising of the match (or tournament) bank
- Conflict resolution: Refund or Restart
- Record Demo matches for you
- Payment of funds according to the conditions
Service fee

(Accepted as BTC currency):
- Bet up to 100$ — 3%
- Bet 100$+ — 1,5%
- Bet is more than $500 — 0,5%

* All operations take place via BTC currency.
Leave a request in this topic and we will contact you.
Request example
How will the match be held?
1. You and your opponent leave requests.
2. We contact you and register.
3. We accept funds in the form of BTC currency.
- It is also possible to accept a bet in Gold, but payments will take place in

BTC

.
4. We will organize a match or tournament for you and on your terms.
- Map, number of rounds and matches, region
(there is an opportunity to try to add the nearest one for you).
- If there are problematic moments, we solve them.
5. The prize is sent to the winner (including the service fee)
If you have any questions, please write

Waxman

or

Pacifista

in the Discord Channel.
Invite-link: https://discord.gg/rEfqPq8ebe

It is also possible to purchase

GOLD through Cryptocurrency

from us.
For more information, please contact

Waxman
.
Stay Tuned